Providing support through providores and connection
Words by Imogen Hindson
Seppeltsfield Road Distillers are a globally renowned distillery, having won the Australian Gin Distiller of the Year Award in 2018, and they create some of the most premium, handcrafted gins in the Barossa, Gawler, Light and Adelaide Plains region.
Business owners Jon and Nicole attribute their success to an array of factors, namely their involvement in their local business community. There are two core ways in which Jon and Nicole involve themselves – through mentorship and training for themselves, and actively listening, working with and employing skilled people from the region. Jon noted that it's important to "create a sense of place and home… [by] employing people who fit your culture, and whose skills fill the gaps of our own competency."
What this has resulted in is Seppeltsfield Rd Distillery being one of the best distillers in the country, with Jon and Nicole paving the way for community support in the region. We had a chat to the team behind Seppeltsfield Distillers to talk about distilling, COVID-19, and all things community.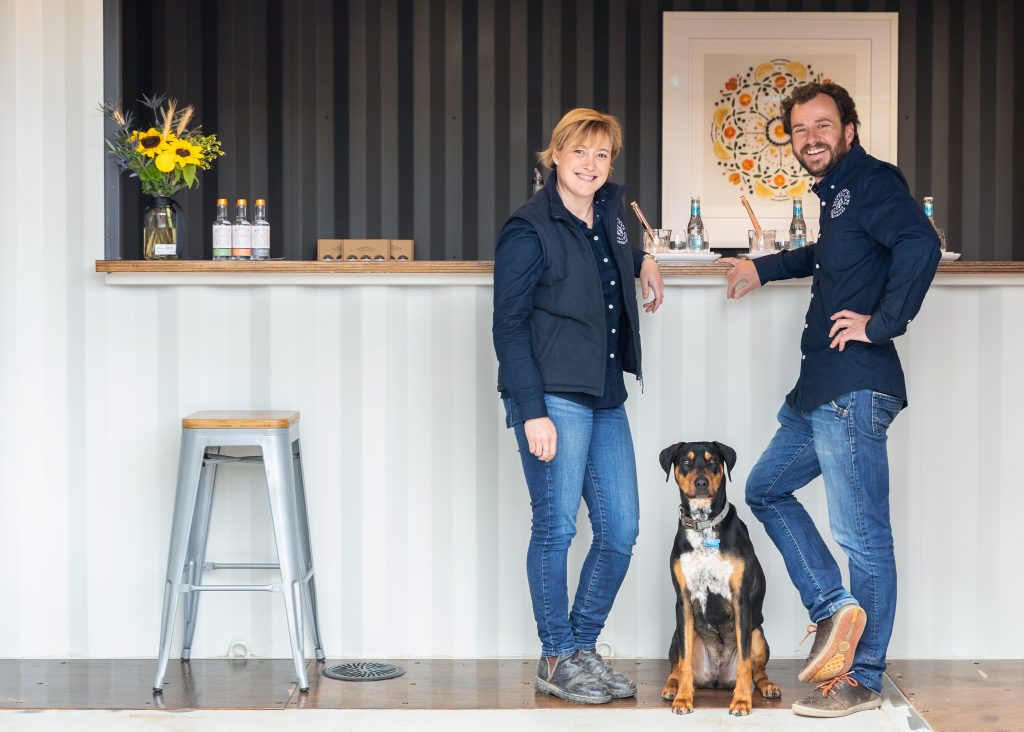 When COVID-19 hit South Australia, eventually closing down businesses for a temporary period, Jon and Nicole adapted to the times. Rather than closing off business, the duo opened their doors to the wider community – starting their community  provedore to sell local products out of their distillery. They also switched up their business, distilling over 2000L of hand sanitiser and collaborating with other local businesses.
"The biggest thing it did was give us an excuse to engage with our surrounding business and community," Jon mentioned. "[It also] helped surrounding businesses sell shelf stock that would have otherwise gone to waste. Generally, 100% of the proceeds of the sale went straight back to the producer." This was a smart decision by Nicole and Jon, with the hopes of selling a bottle or two of gin (as well as community support) at the forefront of the incentive.
By providing fresh goods such as coffee, fresh eggs, cheese, cured meats, as well as soaps and toiletries, Jon and Nicole created a one-stop-shop for all things totally local, all while offering complimentary delivery on orders including gin. A smart business and community plan, to say the least.
"We quickly pivoted to move our focus from visitation to online sales. We're always protective of our price point, and don't like to discount below our RRP as it's not fair to our wholesale customers" Jon emphasised. "Free freight was a way we could offer more while being fair on our retailers."
It's important to note that despite the increase in online sales throughout the crisis achieved through providore and free delivery, the distillery nowhere near covered the losses from their tasting room and on-trade bars and restaurants. All the more reason to get out and buy a bottle or two of gin – although after being told of the community focus in this interview, I won't need any convincing.
However, Jon and Nicole's intention of starting the providore wasn't one of business profit, but supporting their community. As expressed by Jon and Nicole in their initial news release, "100% of the proceeds from these items… [went] directly to the producers… as a small, family-run producer, our thoughts are with other local producers and retails who are facing unprecedented adversity."
The duo not only proved the strength of community in the Barossa and Light region, but also that supportive networks help businesses on an individual scale while allowing local economies to thrive. Through collaboration, local businesses can create innovative solutions to problems and find alternative options for customers.
Seppeltsfield Road Distillery are adaptive in more ways than one. Throughout the pandemic, after desperate calls from local nursing homes and essential services, they made the decision to temporarily produce hand sanitiser. "We collaborated with Seppeltsfield based business Vasse Virgin to release this and in all, distilled around 12,000L of waste wine and spirit to produce nearly 2000L of sanitiser. [This] was sold to local nursing homes, medical and dental surgeries, and SA Power Networks during the time that all of the other commercial supply had been exhausted."
The distillery also collaborated with Seppeltsfield Wines and other local businesses to package online products to create an interesting new product line.
Jon mentioned that the business also has the ongoing customer support to thank for staying afloat during the COVID-19 crisis. Thanks to smart finances and long-term, regular customers, "Seppeltsfield Rd Distillers was fortunate enough to be in a strong and growing financial position going into the crisis… [which] meant we were able to keep operating despite the significant impact on domestic sales."
Jon and Nicole from Seppeltsfield Rd Distilleries are a perfect example of the qualities central to 'Totally Locally'. Through supporting local businesses and their wider community in times of crisis, the business was able to stay afloat while contributing to the success of the Barossa and Light region.