About
The Steiny's Traditional Mettwurst brand has been producing quality traditional mettwurst and smallgoods for well over 30 years in South Australia. Specialising in traditional fermentation and smoking methods to create a true German style product, the original recipe was brought to Australia as far back as the early settlers. Originally founded by David Steinborner in 1980, Tash and Scott Goldsmith acquired 100% ownership of the brand and operations in February 2017 after a brief intermission of partnered ownership.
Business Growth
After successfully applying for the PIRSA Agribusiness Growth Program (AGP) assistance in 2017, the need to work towards a marketing strategy to increase production for distribution growth to the Eastern states was highlighted with the program. One of the key steps was made on the 1 September 2018 when Steiny`s opened a new modern tasting room in the Provenance Building in Nuriootpa, Barossa. However, future growth requires proper planning and business strategy which is missing.
Challenges and Opportunities
Steiny`s Traditional Mettwurst participated in the Barossa Food Excellence program* to formulate and strengthen their business strategy, fill the gaps in their marketing strategy and achieve sustainable growth in operations.
Steiny's have shared their business report from their time with "Literally Brilliant" consultant as situational analysis to enter from Agribusiness Program in 2017.
During the implementation phase following points of intervention were identified:
Ongoing goals-based business coaching
Brand story development
Development of strategic sales/marketing plans
Review of distribution channels
Pricing strategy
New product development
Interim reporting and coaching
During the case management process in the Barossa Food Excellence program, it was identified that the business had mistaken their marketing strategy as their overall business plan and growth plan, and currently did not have a business plan and strategy documented as an outcome of the Agribusiness Growth Program.
These issues were reflected in their action plan for the Barossa Food Excellence program.
*Barossa Food Excellence program, led by RDA Barossa Gawler, Light and Adelaide plains, is a scope of activities aimed to improve Barossa food offer, explore new opportunities and add value to the existing offering.
Engagement With RDA and Food Excellence Program
RDA's initiative Barossa Food Excellence program consists of following modules: Ag-Food Accelerator; Agripreneurs program; Culinary tourism product development; China Ready for food industry; Upskilling hospitality personnel; Chef 1on 1`s and New opportunities (food export, Barossa enterprises distribution, etc. not reflected in the interim report).
Steiny`s were assisted via Food accelerator, China Ready for food, Upskilling hospitality personnel and Culinary tourism product development:
Initial assessment of suitability of marketing goals with the program:

China ready content
Participating in the development of a culinary tourism product in the retail space
Interest in Export opportunities
Eventual a social media strategy – align in consultation with "Literally Brilliant"
Assist with re-location options and floor space planning of new retail store

Participated in Linda Coltart workshop for Upskilling hospitality skills for culinary tourism
Implemented Mandarin translated content: retail price list, WeChat profile under the Barossa platform and Mandarin customer feedback survey
Participated in Eric Pateman workshop for the Entrepreneurs in the Culinary Supply Chain – developing the culinary tourism product
Received ongoing communication (referrals, recommendations, suggestions) and monitoring progress
Engaged B2B provider Deshed Hospitality to assist with an award application and assess gaps/constraints in the current business strategy for further recommendations
Action Plan for Steiny`s includes following:
To document a current Business Plan and Strategy to complement the current marketing strategy.
To work on the following areas:

Confident business pitch
Projected cash flow projections
Application of financial acumen to reports
Professional development planning for current and future staff requirements
Risk management strategy
Work, Health and Safety management strategy
Identification of customer markets
Identification of market competitors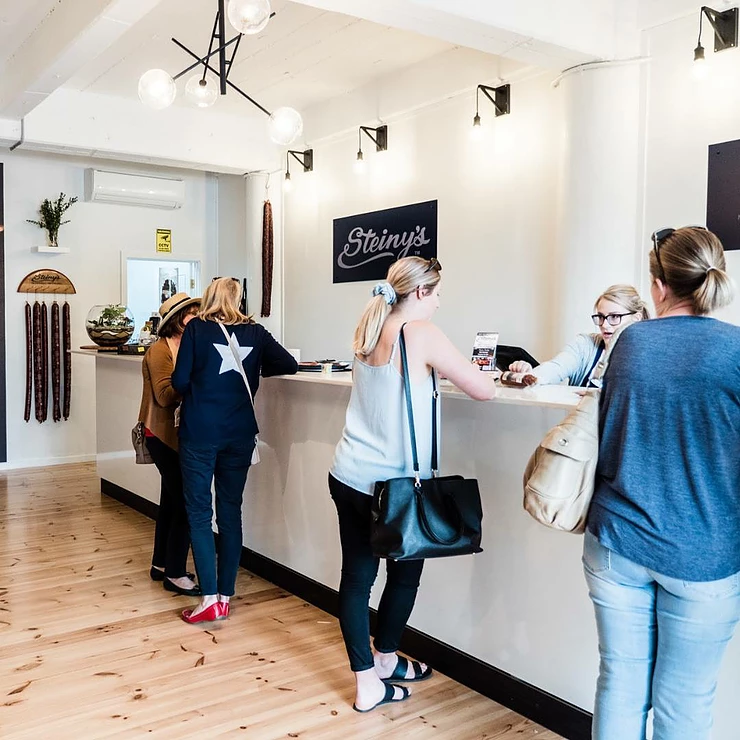 Culinary tourism product development
Premium tasting experience developed and supported by digital engagement infrastructure (iPad) to communication the production process, history and story of the Steiny's products.
After implementing the China Support content, we worked with them to suggest a premium tasting option and connect with Tourism Barossa to pilot the tourism product for the Autumn Seasons program in April 2019, with a view to be an ongoing offering in the retail space
China Ready
Created Mandarin translated retail price list to capitalise on China tourists visiting the Provenance Hub for Penfolds wines.
WeChat business profile and imagery developed and posted on the Barossa platform.
New opportunities
Identified an opportunity for Kangaroo mettwurst for Korean or China export, through sales trends of China market in the retail space.