About
Established in 2016  by Andrew McAlister, Relish the Barossa (RTB) produces gourmet  relishes, sauces, marinades, pastes and soups for everyday consumption.  Andrew also laterally operates, Quintessence a sister company of RTB – a contract processing and packaging service for businesses creating similar products.  Andrew is a highly qualified CPA Supply Chain Manager who oversees the management of production, administration, marketing, sales and distribution.
With  85% of revenue received from one large food producer  in the Barossa, the business must plan for increasing the customer base so this stream represents only 20%  of sales revenue.
Business Growth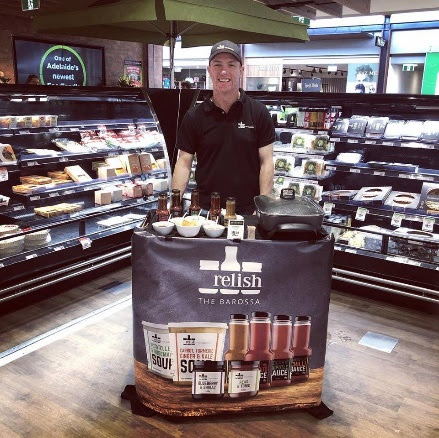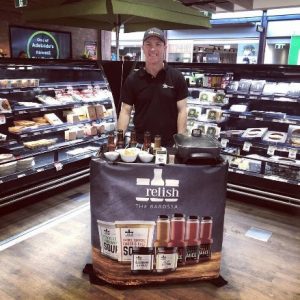 A focus on product differentiation, identifying new market opportunities and a clear strategy for growth in a saturated market (sauces and condiments), was needed to concentrate  RTB business activities. Diversification of revenue streams will also be required if RTB seeks to reduce financial risk of operations and remain a sustainable business model – as a producer and a manufacturer.
Challenges and Opportunities
Relish the Barossa participated in the Barossa Food Excellence program*  to assess current operations and identify key risks, strengths and opportunities and plan for sustainable growth.Product differentiation in a domestically saturated market means RTB cannot maintain a competitive advantage based on price.  Especially when large retail outlets require a supply guarantee beyond RTB capacity. There is also pressure from imported American products in the gourmet BBQ  segment which have the scaling capacity to acquire a competitive market share in Australia. To counteract this challenge, RTB aim to capitalise on the image of the Barossa brand, as a high value, clean, green quality food and wine producer to  gain a competitive advantage in the market.
A by-product of seeking new market opportunities is the inability to recruit, retain and develop quality employees  before the opportunity or supply contract is established. However, there is an opportunity to strategically partner with other food manufacturers in the region to facilitate  mutual benefit. This could potentially lead to the creation of a specialised training program to identify and develop key talent in all areas of food production – for well-rounded employees that can remain flexible within the work environment during fluctuation production schedules.
*Barossa Food Excellence program, led by RDA Barossa Gawler, Light and Adelaide plains, is a scope of activities aimed to improve Barossa food offer, explore new opportunities and add value to the existing offering.
Engagement With RDA and Food Excellence Program
RDA`s initiative Barossa Food Excellence program consists of following modules: Ag-Food Accelerator; Agripreneurs program; Culinary tourism product development; China Ready for food industry; Upskilling hospitality personnel; Chef 1 on 1`s and New opportunities.
Relish the Barossa were assisted via the Ag-Food accelerator program: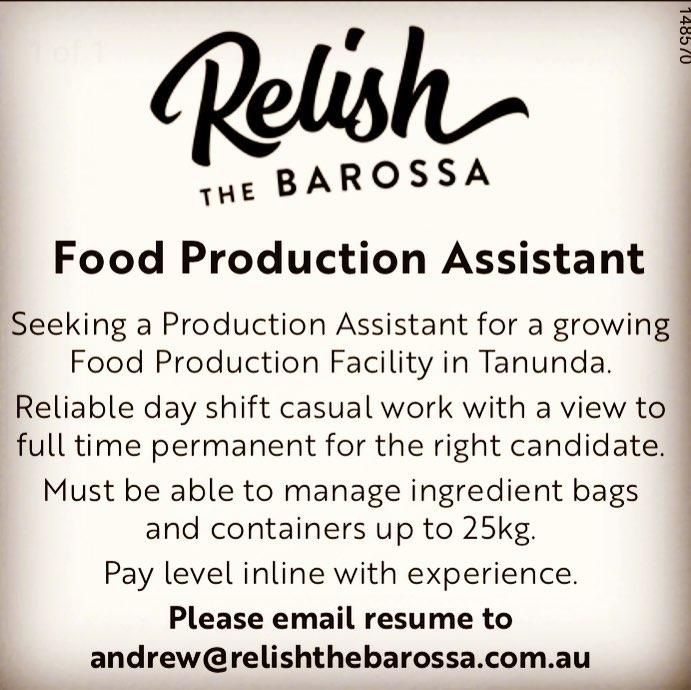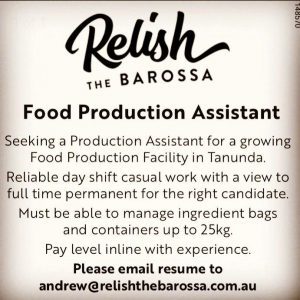 Initial assessment of suitability of business needs with the program:

Industry insights
Business strategy and planning
Export readiness development

Participated in Food Round Table #2 strategic discussions around how to make the Barossa brand value a competitive advantage for food businesses. RTB was invited to add share his industry insights as a manufacturer in the Barossa.
Due to the dual nature and complexity of RTB's business model, an external specialist consultant was engaged for 6 hours to assist with:

Situational analysis of current operations
Identify the best opportunities for RTB business model (products & manufacturing)
Develop a comprehensive business plan

RTB met with Ryan Butta, Export Advisor from Tradestart, for preliminary export readiness assessment and feedback on product suitability
Strategic business plan
Development of clear strategies and growth goals, with identified financial objectives and marketing milestones.
New job creation
As per strategic plan timeline, RTB advertised for a Food Production Assistant in April.
New opportunities
Ongoing discussions with Artisan Selections for export small scale, capacity-led export opportunity.
In discussion with RDA BGLAP to develop a specialised food production trainee program/apprenticeship.